Company > News
Sunday, August 23rd, 2009
Dream Ride 2009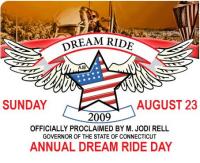 Bozzuto's Inc and Hometown Foundation have done it again. For the ninth year, the Dream Ride was back and better than ever, raising $165,000 for the Special Olympics, a 65% increase from last year. The Annual Dream Ride is an annual charity ride for thousands of motorcycle and car enthusiasts. This year, on August 23, 2009, people spent the day riding in from other surrounding states and all over Connecticut and finally arriving at the Farmington Club in Farmington, CT.

New Wave Industries again developed and maintained the entire online registration process. When riders registered online, their confirmation email had a bar-code that they took to the event to check in with at various kiosk and POS systems throughout the state . The check-in process per-person took only 20 to 30 seconds, as opposed to in years past where manual check-in caused lines to back up. "The lines flowed great.", said John Keeley, Vice President of Information Systems for Bozzuto's. This year, the event expanded from engaging Connecticut-only motorcyclists to riders from several neighboring states, so having an organized process made the event go much smoother. Riders from Rhode Island, New York, Massachusetts, Pennsylvania, Maine and Vermont were all able to check in locally via scanning there confirmation paperwork at a kiosk.

PIT Industries, a division of New Wave Industries, specializes in kiosk, POS and digital display design and development.
Click Here to Return