Company > News
Tuesday, June 2nd, 2009
Max Restaurant Group Launches New Website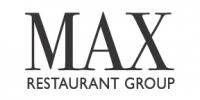 The Max Restaurant Group, owners of 8 restaurants in CT, has launched a second round of websites, showcasing them as one of the top restaurant groups in the state. The websites feature news, recipes, staff, online reservations, restaurant calendars, and even a career section where potential employees can check current job openings and submit resumes. www.maxrestaurantgroup.com

Max's has also launched websites for their gift card sales and reward card information. Customers can purchase gift cards, send them to family and friends and even check their balances all online.

Don't forget to consider Max Catering for your next special catered event.

New Wave Industries, based in Newington, CT, is a full service technology firm specializing in custom web design and development, web hosting, email marketing, e-commerce, content management solutions, kiosk design and development, audio/video production and editing, data backup and recovery, and more. Being a full service technology firm, New Wave Industries, Inc. has developed a service offering that goes well beyond website design. As the company has grown over the past 9 years, New Wave has expanded not only its product offerings, but also its facilities. It is our goal to offer our clients full scale technology solutions, and our growth and expansion over the years has only made that more of a reality.
Click Here to Return