Company > News
Monday, August 16th, 2010
New Website for The Inn at Mount Pleasant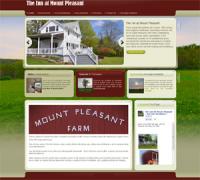 New Wave Industries was contracted by The Inn at Mount Pleasant to launch a new website to help promote the massive remodeling that has been underway. The new website allows guest to view rooms, area attractions and even reserve a room online.
More About The Inn at Mount Pleasent:
The Inn at Mount Pleasant has been completely remodeled to offer modern amenities while still retaining the original charm of the 18th century farmhouse.
The common areas of the Inn include a large country kitchen with dining area, sitting area and fireplace, and a separate living room with television.
You will find the guest rooms at the Inn both peaceful and private. Each of the four rooms offers a queen bed and private, attached bathroom.
While staying at the Inn, guests have complete access to the property, including hiking and mountain biking trails to Nickel Brook Creek, an outdoor grill and large deck, hammock, outdoor fire pit for campfires, and a practice golf hole for chipping.
Site: http://www.theinnatmountpleasant.com
Click Here to Return